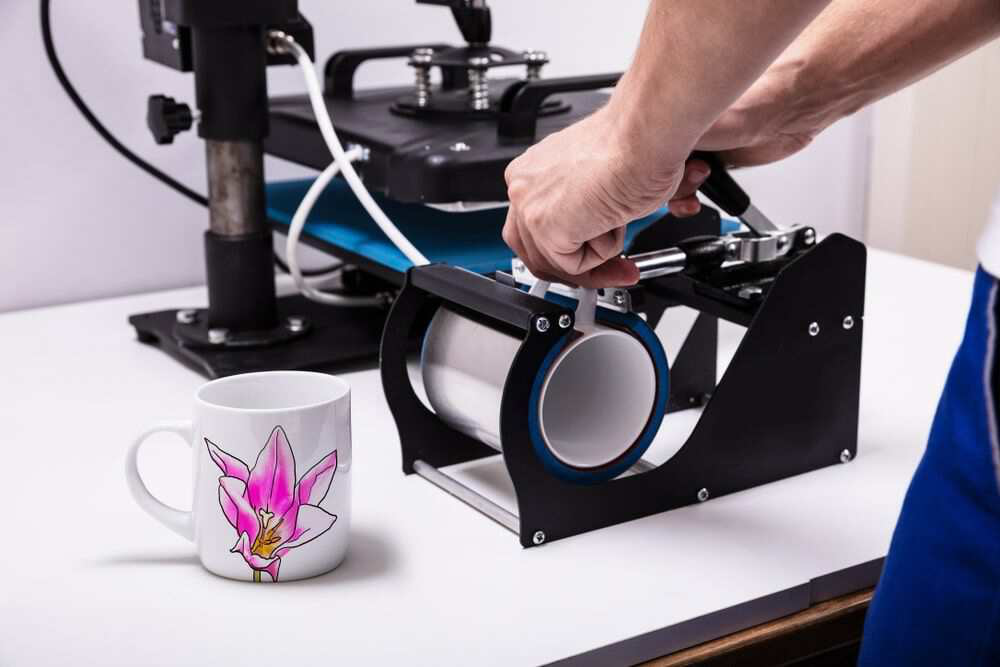 Source:Pinterest
Technology advances with the passage of time, and there was a time when printing was limited to paper. However, a new era of printing has begun, and you can now print on fabrics, ceramics, and metals as well. And among all printers well recognized by the general public, sublimation printing and direct-to-garment printing are the two most popular and rapidly growing types of printing. These two printing types have several key differences, but it is up to you to determine which type best suits your work and meets your needs. After reading and comprehending the guide, you will be able to identify the printing type that is appropriate for your projects.
What Is DTG Printing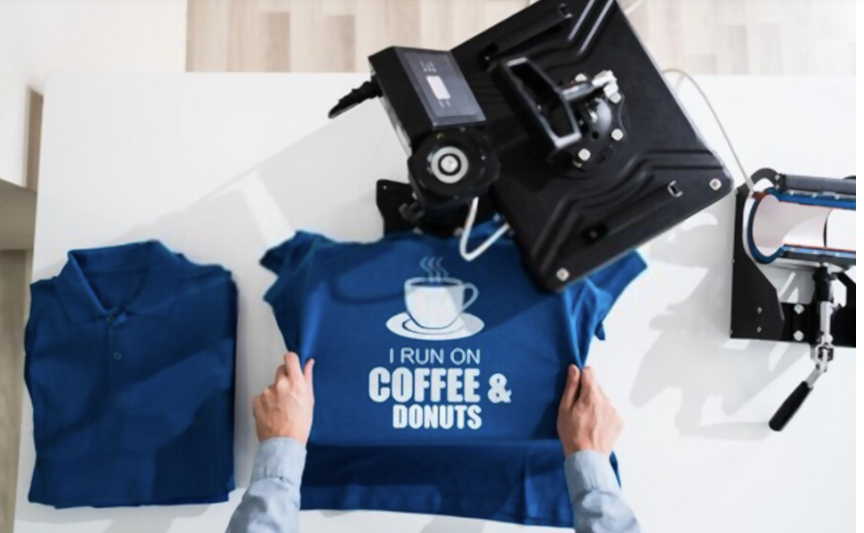 Source:Pinterest
Introduction
DTG printing, also known as direct to garment printing, is a method of printing on textiles, most commonly on pre-made garments such as T-shirts.
You print directly on the T-Shirt, just like you would with your home printer. With inks, all colors mix automatically, allowing you to print a wide range of designs that would be impossible to achieve with other printing methods such as screen printing. Because you can use an unlimited number of colors in the same design, for example, you can print photorealistic images and gradients.
How Does a DTG Printer Work?
Direct to garment printing (DTG) is a relatively new concept that first became commercially available in the 1990s. DTG has come a long way since then and is still a market leader in the printing press industry. If you're new to the printing industry, you might be wondering, "How does DTG printing work?" The process is simpler than you might think and differs significantly from direct to screen printing.
First, the printed design is created and sent to the DTG printer. The printer then applies the design directly to the garment using specialized inkjet technology. This is accomplished by spraying ink onto the garment through tiny nozzles, much like an inkjet printer does on paper.
DTG printing, unlike other printing methods, allows for prints with a high level of detail and a wide color range. This is due to the printer's use of special water-based inks that are absorbed by the garment's fibers, resulting in a high-quality and vibrant print.
Suitable for Fabric Types
Fabrics are classified into three types: natural, synthetic, and blends. Not all fabrics are suitable for direct to garment printing, so let's take a closer look.
DTG printing is ideal for intricate designs with fine details and multiple color variations.
Because DTG printers use water-based inks, the best results are obtained with natural fabrics that absorb liquids. The result is vibrant colors that are deeply embedded in the fibers, resulting in high wash endurance. Synthetic fabrics, on the other hand, repel water due to their plastic composition.
Cotton, Combed Cotton, Organic Cotton, Linen, light-colored polyester, and natural fibers including bamboo, hemp, rayon and more are the most suitable textiles for DTG printing. Furthermore, if you have darker material, it will produce the best printing results.
What Is Sublimation Printing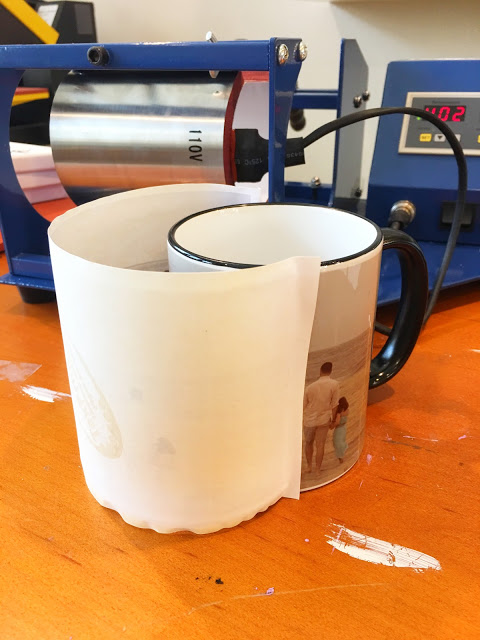 Source:Pinterest
Introduction
You may be unfamiliar with sublimation printing or have never heard about that, but it makes no difference because I'm sure you've worn a shirt with some sort of printing on it before. In fact, sublimation is the process by which solids become gases without passing through the liquid stage. This is accomplished through some fascinating science, which we won't go into too much detail about. It is sufficient to understand that heat and a transference material are employed. As a result, the gases permeate the top layers of whatever you're printing on, providing an excellently sharp and high-resolution representation of the original print design.
How Does a Sublimation Printer Work?
So, how exactly does sublimation printer work? After chosing your design, you print it on the special paper with a sublimation printer. The design is then printed onto the fabric, either with a heat press or (if done at home) by applying pressure and baking it. To transfer the design onto the fabric, you will need to use transfer paper (usually sublimation printing paper). By combining the sublimation printing ink and the fabric, the ink becomes embedded and thus more vibrant for a longer period of time (in comparison to other printing processes). The heat from the press or oven opens the pores of the fabric, while the pressure applied to the fabric cools the ink, turning it into a solid.
The procedure is similar to that of a tattoo, except that it is for your chosen product rather than your skin. The heat opens the pores of the fabric, and as pressure is applied, the ink cools and returns to the solid.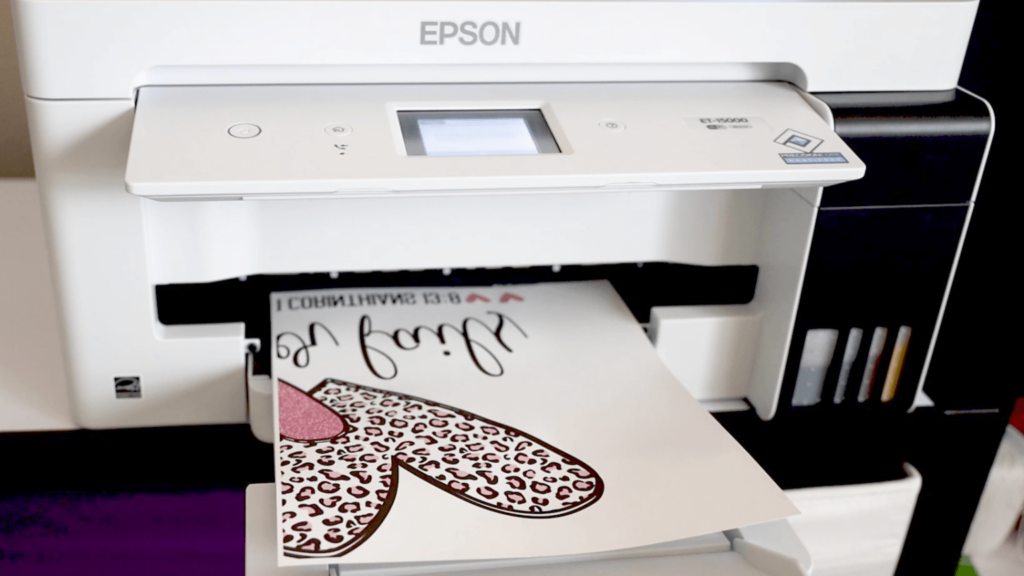 Source:Pinterest
Suitable for Fabric/Products Types
If you want to start your own printing business or find a sublimation printing machine manufacturer, or if you want to start using the process at home, you should know what materials you can use. These are as follows: Polycotton textile, Polymer, Polyester, Ceramic, PVC, Polyester-coated aluminum, Polymer-coated metal, Polyester-made fabric and Polymer- coated plastic.
Polyester or ceramic are the best materials to use for sublimation printing from the list above. Unlike traditional printing, which may only produce one logo per garment, you can use a variety of designs and logos on fabric. There are a few designs, however, that do not lend themselves well to sublimation printing. Designs with block colors and designs that must be placed all over the garment are an example of this. This is due to the possibility of "ghosting" and color mismatch, as well as white streaking. Moreover, sublimation allows you to print on a variety of hard surfaces. Sublimation printers come in a variety of sizes, with nearly twice the printing area of a DTG printer if needed.
Are there any materials that cannot be sublimated? 100% cotton or other natural materials are not suitable for this printing method. This is due to the fact that they lack the pores required for the ink to be absorbed. If you're working with these kinds of materials, digital printing might be a better option.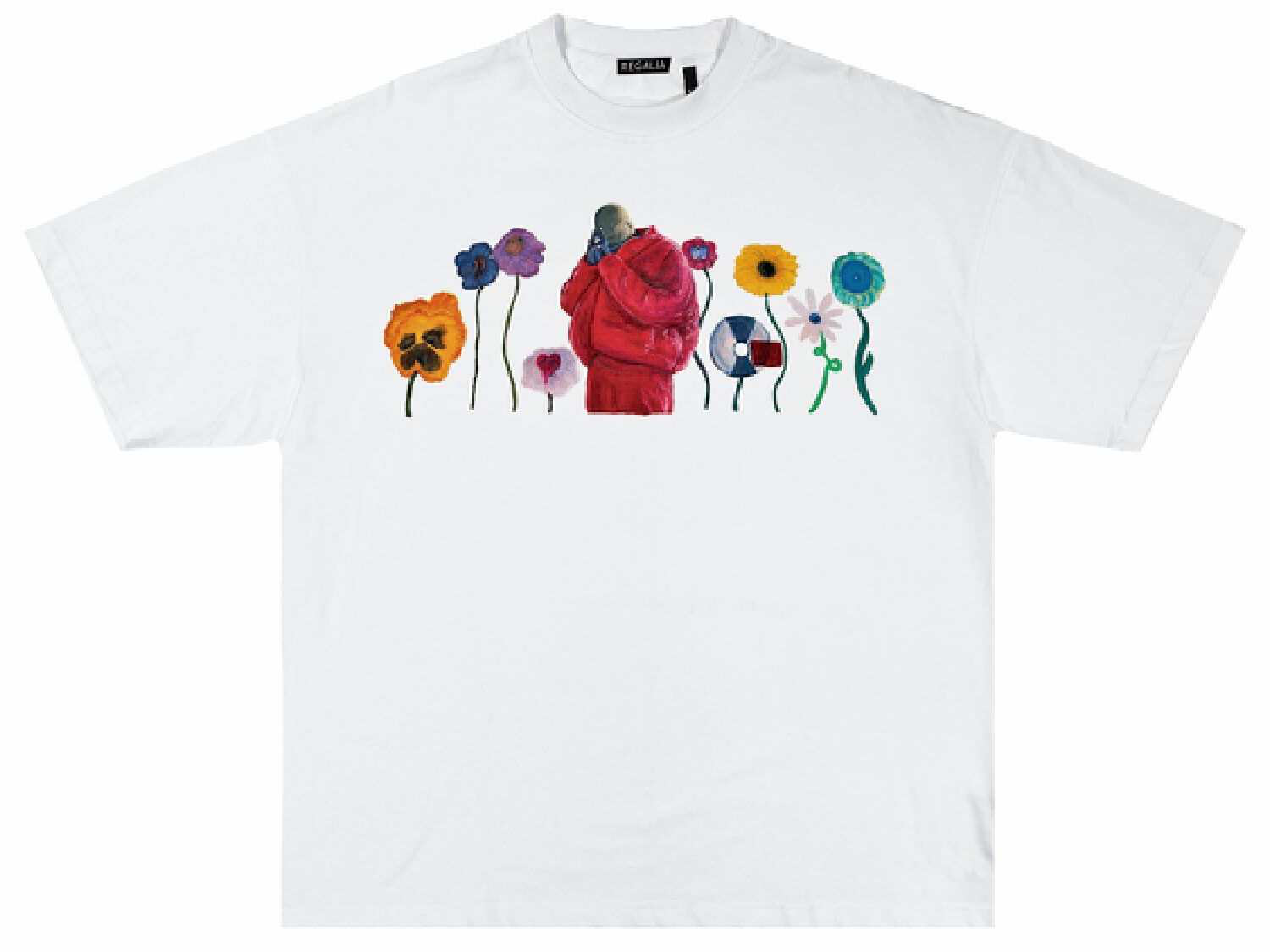 Source:Pinterest
Sublimation vs. DTG Printer for Commercial Use
Cost: Printer Price and Ink Price
For a similar project, the cost ranges for sublimation and digital transfer printing are comparable. However, printing costs vary depending on the material used and the preparation required. There are also sublimation and DTG printers available. Their price varies according to size, quality, and other professional features.
When we compare the pricing structures of both printing methods, DTG printing is like ripping off a beginner's skin. A high-quality DTG printer can cost more than $15,000.
A heat press machine for curing and pre-treatment can cost between $2000 and $3000, plus the cost of a pre-treatment solution. So the total cost of the printer setup is around $30,000. DTG printers, however, as fully functional printing stations, are a long-term investment that can open up a variety of opportunities for a business.
Furthermore, sublimation is a less expensive printing method than DTG. Sublimation printers for beginners to professionals can cost between $1,000 and $15,000. You will also require the best heat press, which typically costs between $500 and $5000.
Different types of ink are used in both printing methods. Sublimation employs a type of ink known as dye sublimation ink. It is both waterproof and smudge-resistant. Generally, sublimation ink starts at around $20 (ish) for a set of four bottles and varies depending on the brand.
DTG printing, on the other hand, uses a special type of water-based textile ink known as aqueous ink. It can remove any type of pigment ink as well as dye ink. White ink is not required to print on a white shirt. The cost is approximately $0.28, whereas printing a black shirt requires white ink and costs $1.62. As a result, for DTG printers, printing a black shirt is nearly triple the cost of printing a white shirt, whereas sublimation printing has a negligible cost increase when printing on a black/colored shirt. This is because DTG requires a white base on colored/non-white shirts in order to bring out the colors. The additional layer of ink will raise the overall cost.
Varieties of Your Product
With a sublimation printer, mugs, socks, blankets, keychains, clocks, ornaments, and other items can be printed on both hard and soft surfaces. There are no restrictions on what can be printed. As a result, you have more options in terms of what you can do for your customers.
In terms of a DTG printer, you can easily print hats, koozies, sleeves, pillowcases, canvas bags, shoes, canvas bags, and much more with the right attachments or placement. But before that, you should find a reliable DTG printer company. If you want to distribute premium DTF printers or create eye-catching clothing & apparel of all kinds, a DTF printer manufacturer from China is recommended for you. But no matter what kind you prefer, remember to pick a digital textile printer manufacturer that creates satisfactory solutions tailored to your intended substrates and capacity with a lifetime warranty and user-friendly operation.
Quantity & Productivity
You will be able to print or make large quantities of items with a sublimation printer. With a single button press, you can perform one-time printing, continuous printing on rolls of media, and even unintended printing overnight. However, compared with DTG printing, sublimation printing requires each item to be pressed individually. The sublimation printing process also requires more labor because it includes the extra step of printing the transfer paper.
Although DTG is not ideal for large orders, it can print full-color designs much faster than other methods, owing to the lack of the need for specialized stencils or heat transfer substrates. There is no setup time, and all colors can be printed simultaneously.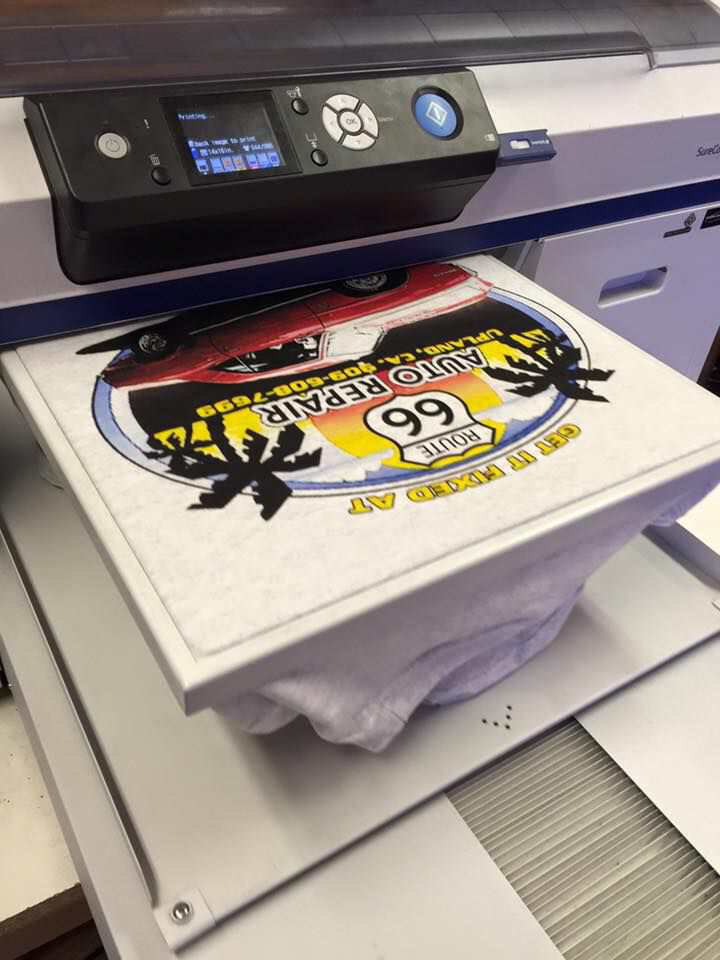 Source:Pinterest
Conclusion
Before deciding between DTG and sublimation printing, consider what is best for your business and personal needs. In fact, both methods are effective for producing high-quality products that will satisfy even the most discriminating customers.
Whether you are starting a new business or expanding an existing one, investing in DTG or sublimation printing equipment would be a wise decision. Custom merchandise, logos, and advertisements can be created quickly and easily in both cases. In any case, both printers allow you to expand your creative capabilities as well as your commercial opportunities.