UV DTF printing technology has become increasingly popular in recent years. Its ability to produce vibrant and high-resolution prints on various materials has made it a go-to choice for many businesses and individuals. Choosing the right UV DTF printer is crucial in order to achieve the best results and maximize productivity. In this article, we will explore the top 10 UV DTF printers of 2023, providing detailed information on their features, specifications, pros and cons, as well as user reviews and ratings.
What is UV DTF Printing?
UV DTF printing, also known as UV Direct to Film printing, is a digital printing method that utilizes UV-curable inks to directly print designs onto film or other flexible materials. This process involves the use of ultraviolet light to cure the inks, resulting in crisp and durable prints. Unlike traditional printing methods, UV DTF printing does not require additional steps such as heat transfer or screen printing.
Benefits of UV DTF Printing
The advantages of UV DTF printing over other methods are numerous. Firstly, it allows for accurate and vibrant color reproduction, ensuring that the final prints are visually appealing and true to the original design. Additionally, UV DTF printing offers high-resolution results, making it suitable for intricate and detailed designs. Moreover, UV DTF ink used in this process are highly durable and resistant to fading, ensuring that the prints maintain their quality over time.
List of Top and Popular 10 UV Printers
Xinflying XF-302 A3 Mini UV Printer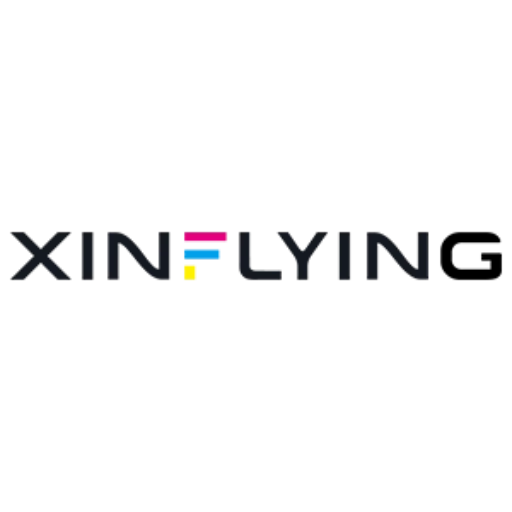 Features: This mini UV ink printer comes with a unique emboss effect and 3D textured printing capability. It supports white ink, varnish and CMYK color printing. It also includes RIP software for better color and print management.
Pros: The Xinflying XF-302 A3 Mini UV printer is small and easy to operate. It offers high precision printing with a resolution of 5760 x 1440 dpi.
Cons: This printer may not be suitable for large-scale industrial printing due to its small size and lower printing speed.
ColDesi 24H3R UV Printer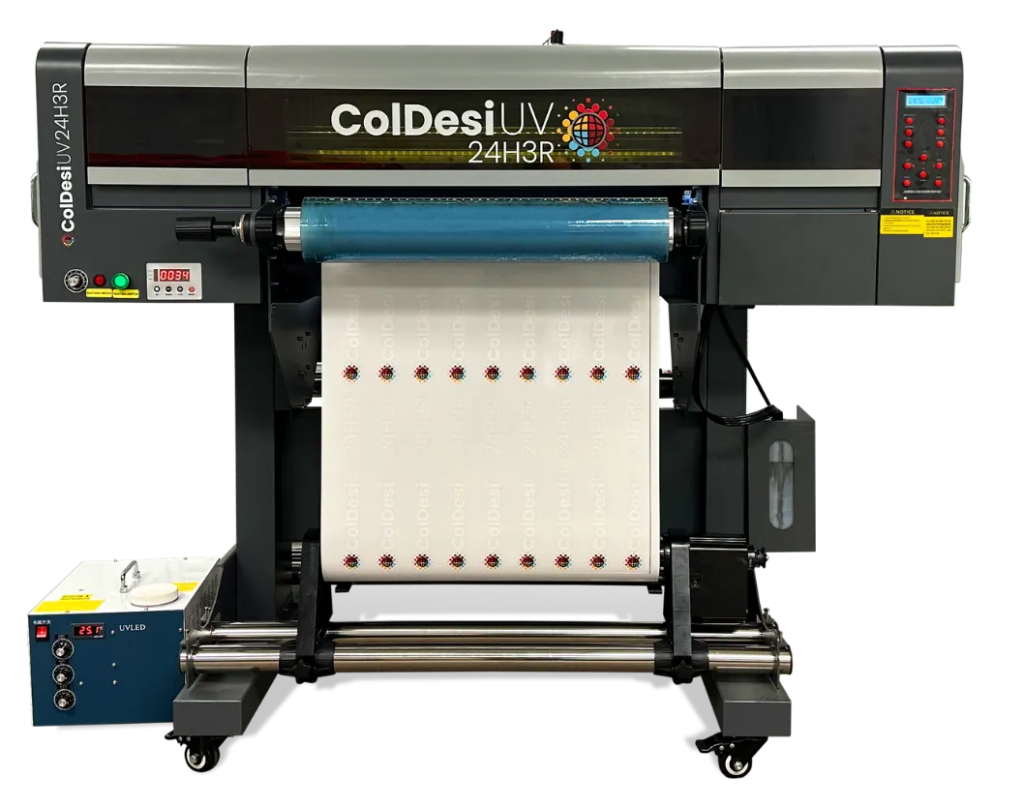 Features: The ColDesi 24H3R UV/DTF Printer has a dual CMYK+W+V printing capacity, high resolution of 5760 DPI, and an automatic height adjustment functionality that can accommodate materials up to 150mm thick. It also has an easy-to-use LCD touchscreen control panel.
Pros: The printer offers a comprehensive plug & play bundle that includes software and supplies, allowing startups to start printing as soon as the device is set up. The ColDesi 24H3R UV/DTF Printer has high throughput, excellent print quality, and ease of use that ensures your startup is well-equipped to meet customer demands.
Cons: However, the model is on the expensive side, which may not fit all budget considerations for startups. Also, monthly maintenance could be a time-consuming task.
DTG PRO UVMAX UV Printer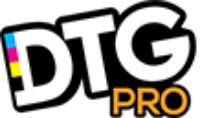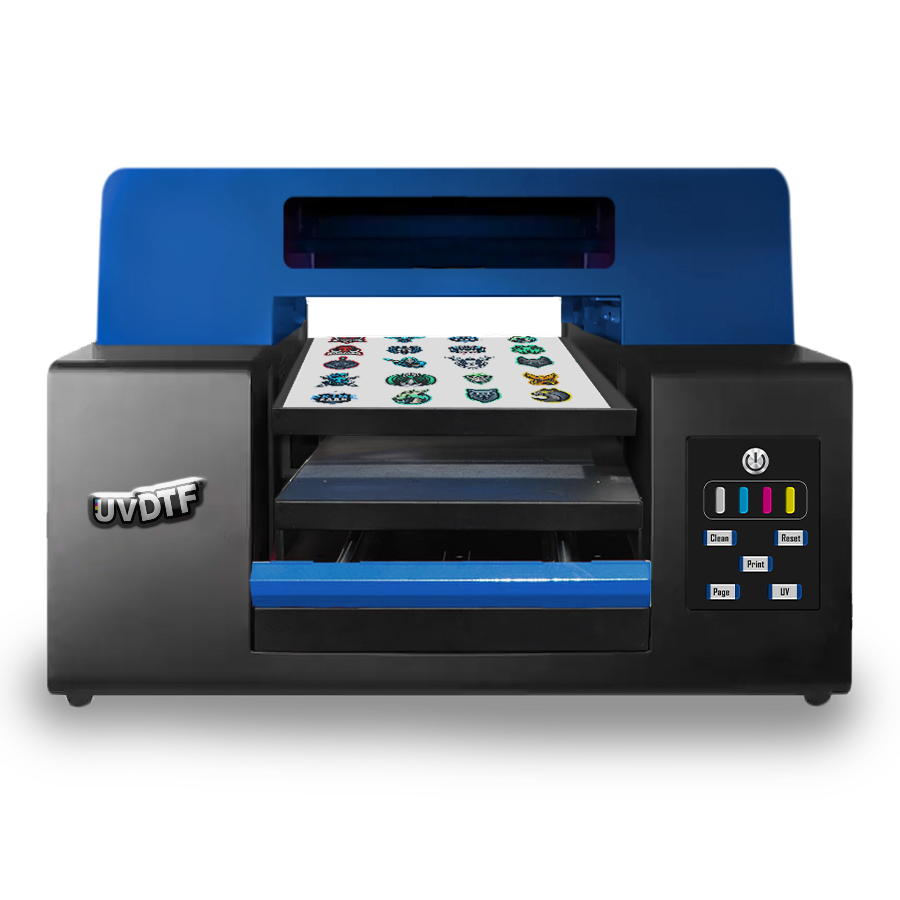 Features: The dtgpro UVMAX DUAL HEAD UV Printer (GEN 3) features dual printheads with high-speed performance, an adjustable print height of up to 13.8 inches, and LED UV lamps for curing between color and white layers.
Pros: This model has the advantage of high-speed printing, allowing startups to handle bigger volumes and meet deadlines without compromising on quality. The LED UV lamps allow for fast and efficient curing process, saving printing time.
Cons: Despite its several features and advantages, the setup and calibration of the device can be complicated for beginners. The machine also requires regular maintenance to ensure optimal performance.
Procolored 3360 UV Printer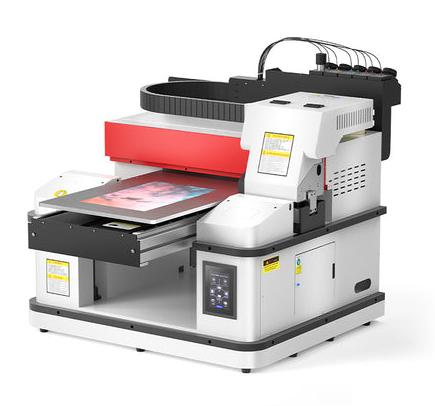 Features: The Procolored 13″ Dual Heads Array High Speed A3+ UV DTF Printer 3360 has dual printheads for high-speed printing, an adjustable tray for printing on products of various sizes, and an automatic head cleaning function.
Pros: Ideal for startups, this printer offers quick and efficient service, with less down time due to its automatic head cleaning feature. It also offers a high resolution, ensuring your prints are of superior quality.
Cons: On the downside, the 3360 UV DTF Printer may require a steeper learning curve to fully utilize its functions. Additionally, customer service may sometimes be a challenge for users who need immediate troubleshooting assistance.
Xinflying XF-604 UV Printer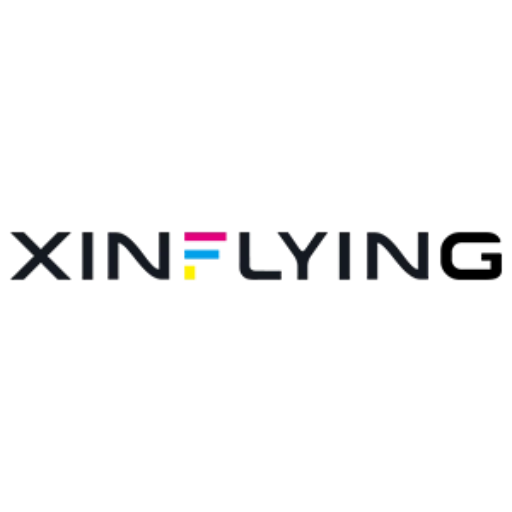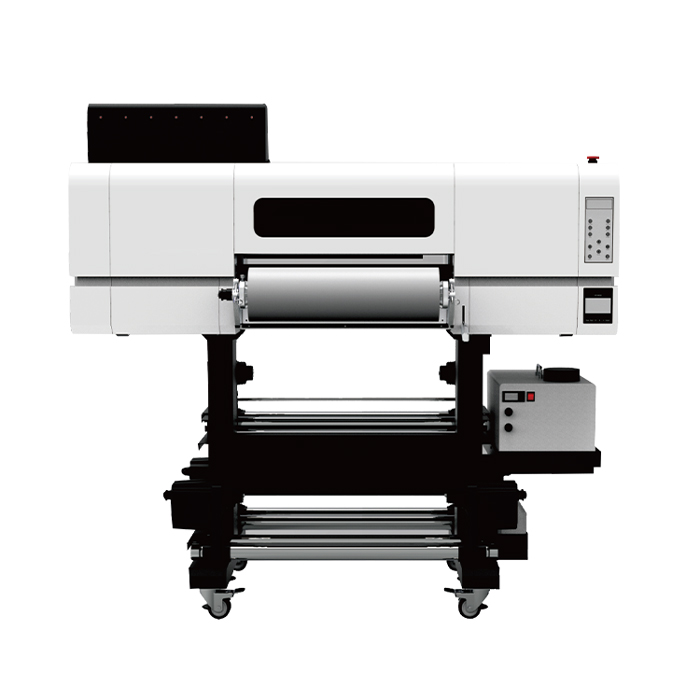 Features: This is a large format UV printer from China, able to print on a diverse range of surfaces such as glass, ceramic, leather, and vinyl. It has a dual printhead design and an advanced RIP software for enhanced color and printing management.
Pros: The XF-604 offers high-speed printing with stunning image clarity. The machine is durable and designed for heavy usage.
Cons: It's larger and heavier than other models, requiring a dedicated space for operation and it may also be a bit pricey, especially for startups.
Selecting the Best UV DTF Printer for Your Needs
When starting a new business, choosing a reliable uv printer manufacturers with right tools and equipment is crucial for success. If your startup involves printing, investing in a UV DTF (Direct-To-Film) printer can greatly enhance your production capabilities. However, with numerous options available in the market, selecting the best UV DTF printer for your specific needs can be a challenging task. To help you navigate through this process, we have outlined some key considerations below.
Print Quality
The primary objective of any printer is to deliver exceptional print quality. Look for UV DTF printers that offer high-resolution printing capabilities, ensuring sharp and vibrant images. Evaluate sample prints and closely examine the level of detail, color accuracy, and overall print quality to ensure it meets your requirements.
Versatility and Printing Options
Determine the range of materials the UV DTF printer can handle. A versatile printer should be capable of printing on various substrates such as cotton, polyester, and blends. Additionally, it should be able to accommodate different sizes and thicknesses of materials, allowing you to offer a diverse range of products.
Ease of Use
Being able to operate the UV DTF printer seamlessly is vital, especially for startups with limited resources and technical expertise. Look for printers with user-friendly interfaces and intuitive software. Additionally, consider printers that provide easy navigation through maintenance procedures, troubleshooting, and color management options.
Speed and Production Efficiency
Assess the printing speed of the UV DTF printer and its ability to handle high-volume production. Startups aiming to meet demanding deadlines and customer expectations will benefit from a printer that offers faster printing speeds and efficient workflow features such as automatic material handling and batch printing.
Support and Service
It is essential to consider the reputation and customer support provided by the UV DTF printer manufacturer. Opt for a brand that has a proven track record of excellent customer service, reliable technical support, and availability of spare parts. This ensures that assistance is readily available to address any issues that may arise during your startup journey.
Cost-effectiveness
As a startup, managing costs is crucial. Consider the initial investment required for the UV DTF printer as well as the ongoing expenses related to ink, maintenance, and consumables. Find a balance between affordability and value for money, ensuring the printer aligns with your budget and long-term growth plans.
Conclusion
UV DTF printing continues to evolve, and the top 10 printers of 2023 demonstrate the industry's progress in delivering outstanding results. When selecting a UV DTF printer, it is vital to consider factors such as print speed, resolution, durability, compatibility, and user reviews. By choosing the right printer, businesses and individuals can achieve exceptional printing experiences and unlock new possibilities in their creative endeavors.